BluegrassNet is one of a Website Designer's best resources for ISP and technical assistance.  We specialize in helping you with all the technical needs and issues surrounding the development, deployment, and maintenance of your websites, web servers, or any other IT dependent projects.
We are ISP and IT people, and those skills are what we have to offer. Our experience and knowledge on all IT matters as they relate to websites are at your disposal. Here is a visual example of what we do, and what you do, when we work together. We realize that there may be some overlap, but keep in mind that not all website developers know how to do PHP scripting, or SQL database lookups, and that's what makes us different: we are flexible.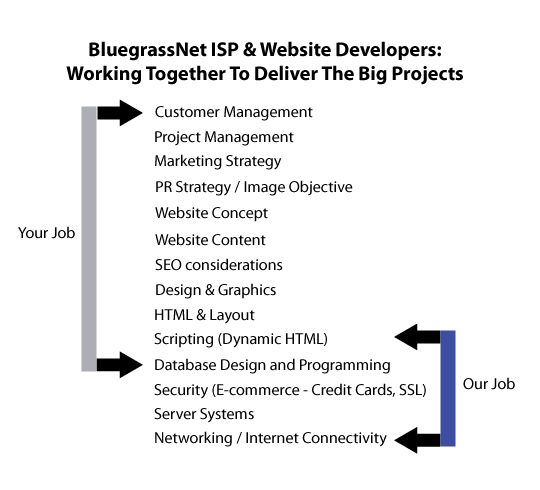 How does a web developer benefit from working with BluegrassNet?
We will help you sell the big projectsHave you noticed how the business has changed? Getting a new customer is not as easy as it used to be. Why? Because you are now "inheriting" all sorts of bad background code, dependencies, arcane scripting languages, etc. Our engineers and programmers will help you assess the true cost of taking over a website, then work with you on actually making the transition off the old site with a minimal of technical snafu's. This means you can focus on what you do best: design websites. We'll take care of the machines, the security, the networks, and any other unforseen technical hurdles.
We will give you sound advice on what type of servers will best suit what you're trying to do, while not breaking the bank financiallyWe understand the difference between short term and long term planning. What you need to know as the project manager is "what am I really looking at paying in the long run, and what are the pros and cons of getting a private server for this site or running it on a shared box? Well we can help you answer that question, we do that all day and every day.
We have several different options that will allow you, the Web Developer, to maximize the efficiency and profitability of your businessHave you noticed that about 80% of your sites get very little traffic and don't require a lot of service? Then the other 20% are crazy busy and will drive you insane with their complexity? We understand that, and that's why we have four or five different hosting platforms that you can choose from based on the needs of each customer. For example, our shared hosting packages have a platform that is very inexpensive and specifically designed for those little no-hassle sites. You run everything from a nice management console and can do most of the dns and other set up details yourself. Yet, we have high-availability clustered solutions, private servers, virtual servers, and more if the situation warrants.
If a website is having problems, you can call directly in here and talk to one of the sys admins quickly to figure out what is going wrong, or if there is something amissWe're not kidding. If there's a problem, call us. Someone always answers the phone. Chances are you are one hand-off away from *someone* that knows what's going on. Oftentimes, we can even see if one of your programmers made a mistake. That can help shave hours off your clock in terms of finding out what's wrong.
What are our specific skill sets?
Data Center Operations and Continuity
Internet Networking, Routing, Switching, BGP
Security Issues: Firewalling, VPN's, Exploit detection, Encryption
Server System Administration: Linux, BSD, Windows Server, Active Directory
VOIP Integration, Asterisk, Call Center Deployment, Custom VOIP Integration
Programming: LAMP, PHP, MySQL, PostgreSQL, MS-SQL, Ajax, JavaQuery, etc.
Software Development: Managing large projects including projects that are several integration layers deep.
References are available upon request. 502-589-4638.
How can BluegrassNet Help?